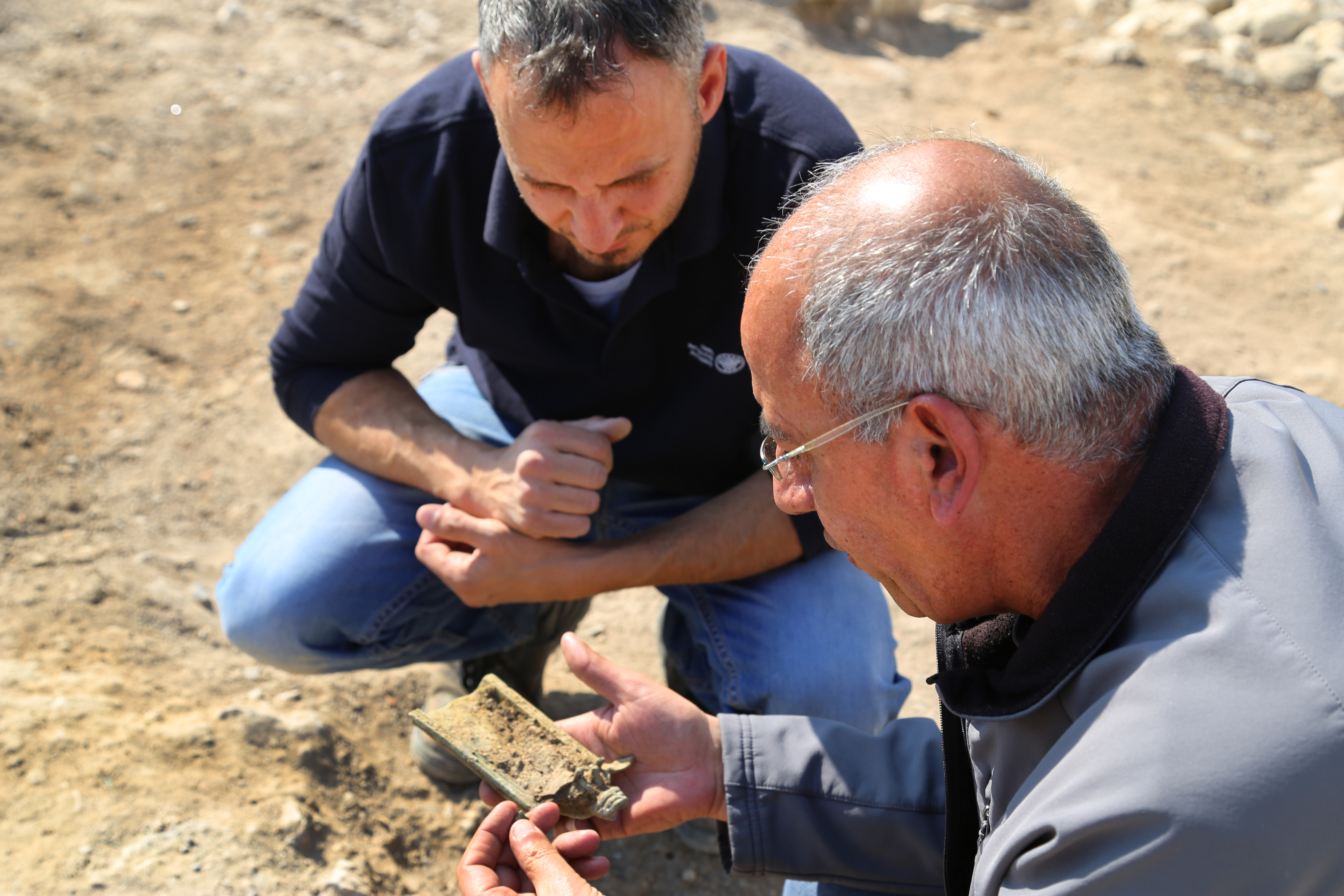 Eyad Bisharat views the bronze incense shovel being held by Arfan Najar, at Magdala where it was discovered. Photo: Israel Antiquities Authority
Allen opened the Jerusalem Post Wednesday morning and said, "Look! There's an article here about Magdala!"
Articles about archaeological finds are not unusual. A relatively large number of archaeologists work in Israel. Given the area's long history of building, destruction, and rebuilding, it is not surprising to read of important new discoveries. Almost every week the Israeli Antiquities Authority (IAA) announces some amazing find. What is surprising is to learn that this week's announcement is about something unearthed at the dig you visited less than a week ago.
Last Wednesday, Arfan Najar talked to my class about his work at Magdala (Migdal). This week his photo is in the newspaper. He is one of the three supervising archaeologists who found a bronze incense shovel and a jug on the floor of a storehouse near the dock at Magdala.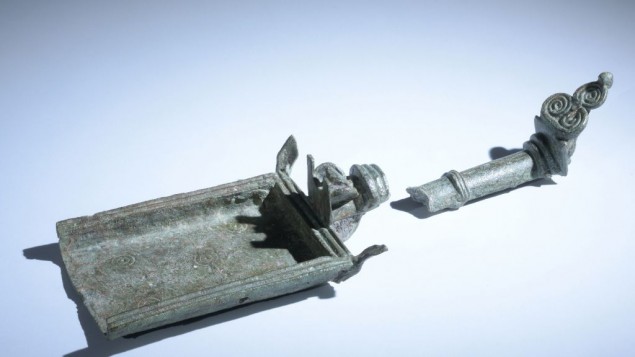 The incense shovel, cleaned up. Photo: Clara Amit, Israel Antiquities Authority
The dock? When we were there last week, he only mentioned the dock in the context of the local fishermen, who brought their catch to the marketplace. He had waved his hand vaguely in the direction of the Kinneret, visible behind him, and said that much of the fish was salted before being sold. Residues of salt had been found in the small pits hollowed out of the stone floor of some of the shops.
The IAA does not announce finds until they are authenticated. When Arfan talked to our group last week, he knew about the bronze shovel and the jug but he did not mention them. He knew how important they were. Only ten other incense shovels have been found. But they were easily identifiable because of descriptions in the Bible and Talmud. They are pictured in the mosaics of early synagogues.
How hard it must have been for him to refrain from saying anything. He didn't even hint about recently uncovering something significant. Not even "watch the news for an IAA announcement about our dig." Arfan described Magdala for us, talking about what they had found with expertise and humor.
And all the time, he kept his secret.